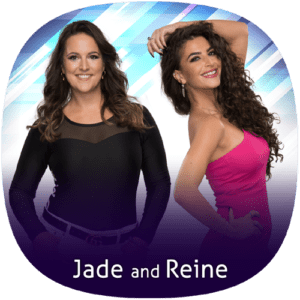 Show Times
Timezone
: +04
[UTC+4]
Mon:
Tue:
Wed:
Thu:
Sun:
About the Show
Jump to:
Hey it's Jade and Reine from Beat @ Breakfast, we are the darlings of the breakfast show, the Ab Fab if you will! Join us from 6am-10am weekdays for hysterical hilarity, dating advice, we get competitive, and we play the best tracks from big DJs Tiesto, Meduza, David Guetta to name a few.
We battle it out at 7am in Beat the Beat, we choose a track each and you vote for your favourite on our insta stories @beatuae.
Oh yeah, we almost forgot about Jake, he joins us for Think Fast Reine vs. Jake, the game where Jade asks random questions to the guys and they squeeze their brains for quick answers!
We love showering you with exciting prizes throughout the show, from Scuba Diving courses to brunches and staycations. Play along with us, and win!
And don't miss 2 fact ladies, we come up with some of the best and worst facts that you didn't know you didn't know. We love hearing your facts too! Send them in to us on our SMS number 4978.
Follow the girls on our socials @jadeonair & @reineabourjeily